Program in Indoor Playground
Get the correct play events and ideals for your indoor playground
You may confused by so many different design at indoor playground, even on our website have hundreds of design and each of them are different. So how can you find the best one? How can you sure not missing something good? How can you get the ideals of whole place? Angel playground try to make the process as easy as possible, we guide you one by one step from you have the conception of building an indoor play equipment to the final installation. We love to support you until you have the perfect solution for your unique play structures.
For toddler play area (2-5 Years) (15m2 to 60m2, 160sq.ft-650sq.ft)
Option A: Toddler play structures including ball pit, fence and small toys like jumping ball, seesaw, etc…
Option B:Soft play equipment with toddler plastic slide, tunnel, tree, kitchen etc…
Option C:Soft building block, sand box, ball pit etc…
Option D: Kids carousal, Merry go round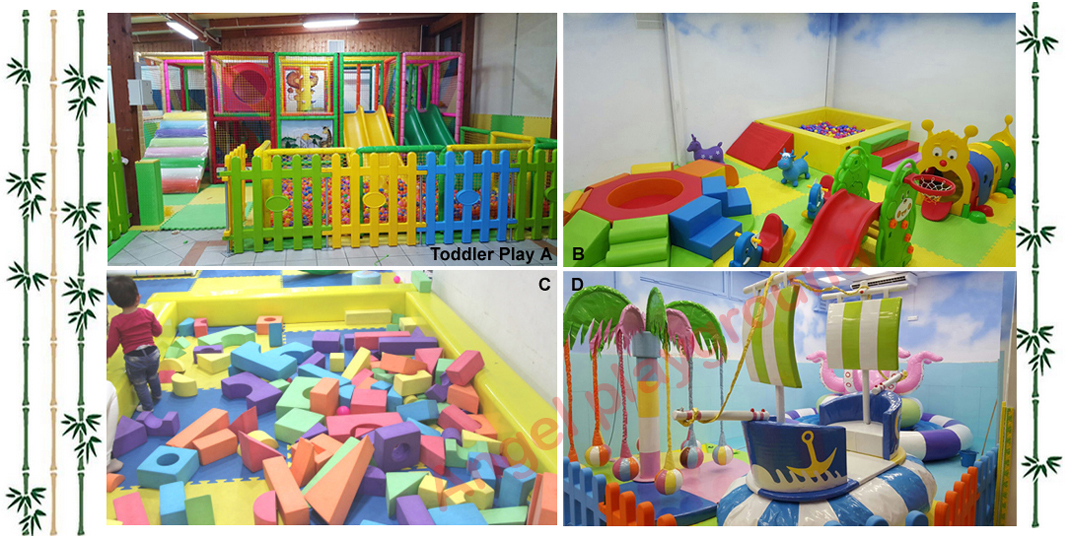 Merry go round are very popular game for small kids at indoor playground. Angel playground have many kids merry go round with different function, some carousal are rotation, some are move up and down, some with LED light and some with musical. Under the PVC leather have sponge or inflatable base to absorb any impact. This colorful integrate games offer greater interactivity and engaging play experience. For toddler this game has irresistible attraction.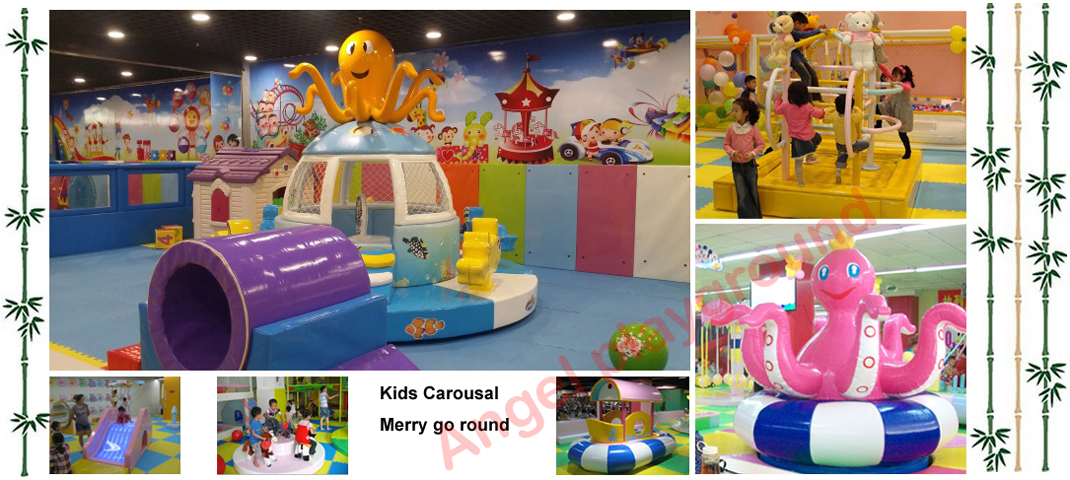 Soft play equipment makes indoor playgrounds more attractive colorful and suitable for kids in all age. They can climbing, sliding, drilling, crossing on each game. Soft play equipment can move and recombination, that is why willing to stand long time on it. In fact have some large play center just have soft play equipment, they put it on huge ball pit make an challenge course to encourage kids do more exercise, this challenge course simulate the adult one at park. Soft play equipment is must have product for toddler play area, you can't missing it. You can place it as a individual area or just on first floor of main play structures.

Sand pit is one of independent project for toddler play area. It is very similar to ball but the games inside are very different, Sand is small so can play truck, forklift, funnel, windmill, bucket, shovel, and so many plastic toys. Also can put some plastic house, toddler slides inside bring some much fun for kids. We are using semen cassia to replace sand, so it is more clear and healthy to kids. Semen cassia is the fruit of plant, it is small, shine and smoothly on surface.

TPU material play events -TPU is new material for toddler play area, using this material can make animals and cartoon image in any shape, any color. Other advantage for TUV play equipment is soft surface, the whole structures will be soft, even touch better than soft play equipment, if you have particular mascot, we can customized it by TPU material. (This project will be costly, consult your salesperson to know more)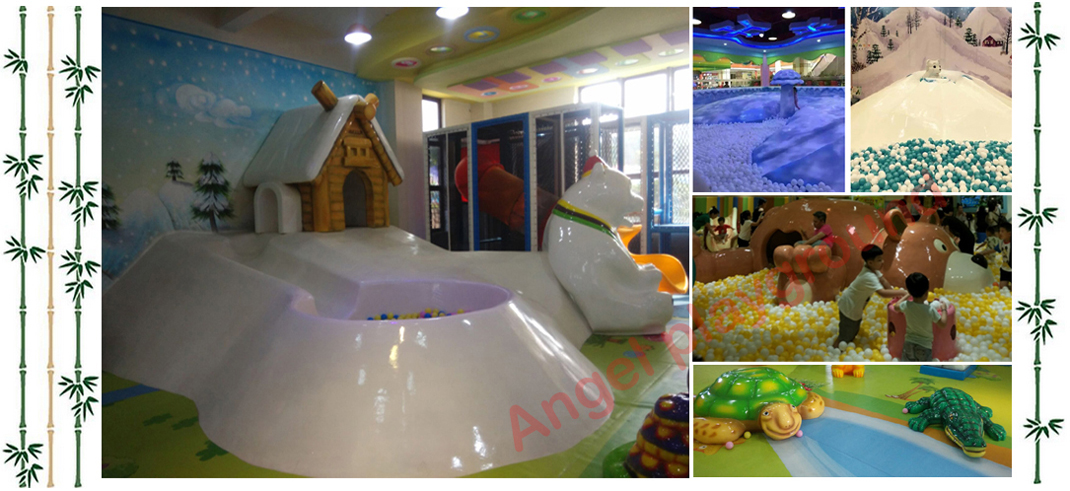 Other play equipment need to concern for toddler play area will be trampoline, climbing wall, chasing car, wall game, building block house. Separate trampoline from main play structures will be more safe, we make climbing wall with soft material on surface, we have mini car with racing track to encourage kids do more exercise, have wall game to help kids development their brains, also with building block to building a house simulate construction worker. You can mix different play equipment in one unit.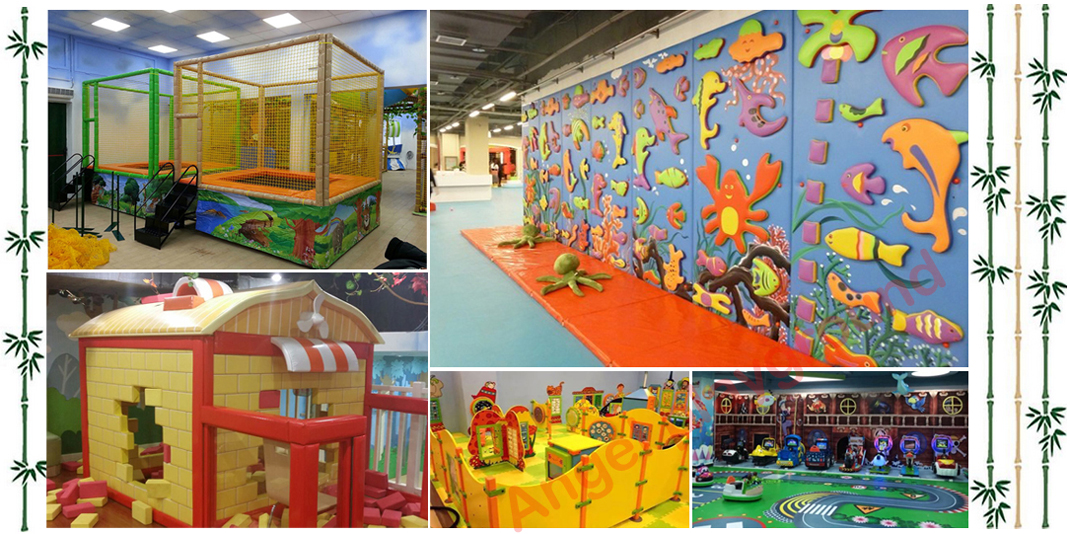 Main play structures (5-12 years) (60m2-2000m2, 650sq.ft-22000sq.ft)
All exciting, challenge and thrilled program can be reasonable arrange inside main play structures. It is totally customized including the height of each level, the length of slide, ball blaster games, climbing games, obstacle, platform, even color of each component. Usually for height under 350cm, we suggest two floors, for height over 400cm, we can make three floors. The maximum height can reach to 700cm. You are free to pick the components if the size allowed, check bellow suggestion and components! Can or email to us, our designer will bring best ideal to your unique playground design.
Ball blaster is one of the most welcome sport events in play structures. It can be separate area for shooting game only, which can put more guns, more cannon and other ball blaster machine inside (will take 50m2-100m2). Most clients mixed ball blaster inside play structures, like four gun and ball blaster machine, which only need around 25m2, Angel playground provide all blaster made by metal not plastic.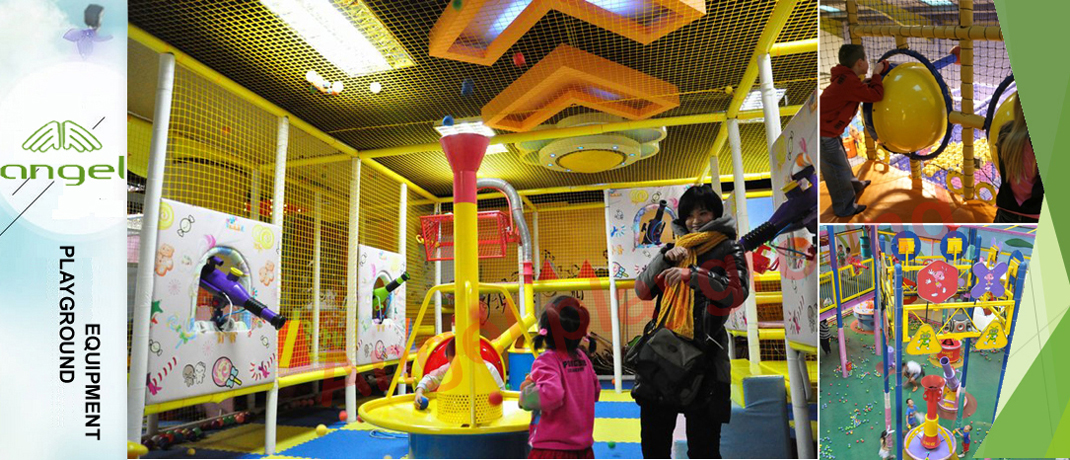 Slides: Angel playground have many kinds of slide from different level, slide is essence of indoor play structures. The slide will be more fun if on high level with long slide-way, so the owner need to make the slide as height as possible. You need different kind of slide even on same level, so kids on all age can find they own slide. Most welcome slide is the one made by fiber glass, it is can be joined together by pieces, so any length can be made.
Below slide (Height120-160cm) (4ft-5ft) from level one only, also have other slide made by stainless, cloth face, PVC board, TPU.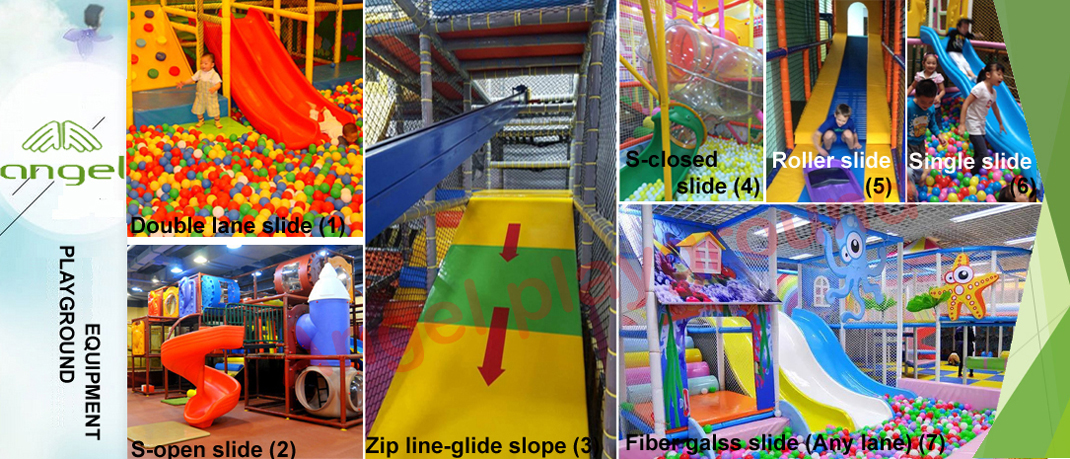 Below slide (Height260-320cm) (8.5ft-10.5ft) from level two. Height (2.6m-3.2m) (8.5ft-10.5ft), Have S-open slide, S-close slide, tube straight slide, fiber glass slide and roller side.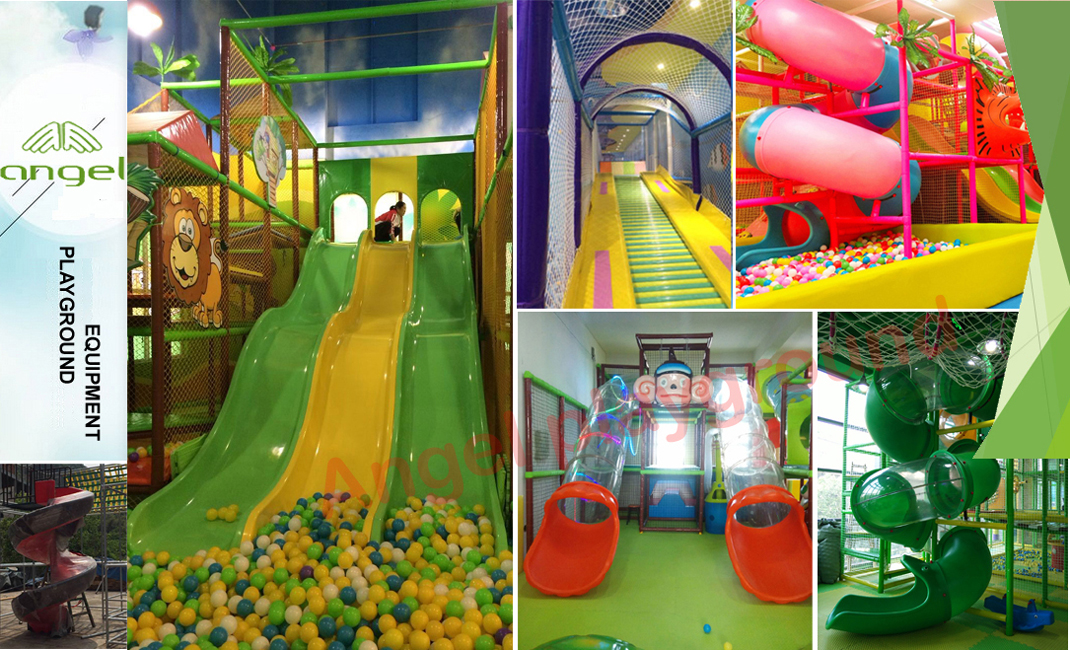 Blow slides (height 350cm-600cm) (11.5ft-20ft) These big slide for huge indoor playground center which at least with floor height 450cm (14.5ft)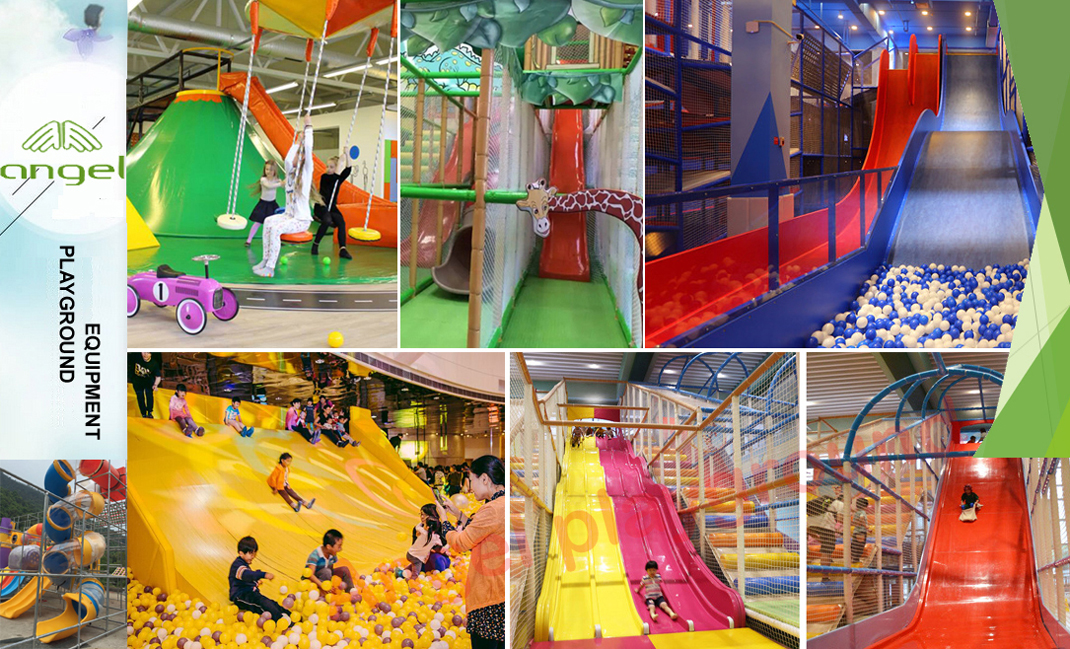 Tunnel options: We have tunnel made by cable, plastic tube, plastic station, transparent fiber glass, Dacron ribbon. Plastic tube can cut and make transparent window, also have train station, rocket, telephone tunnel, for more check our components list.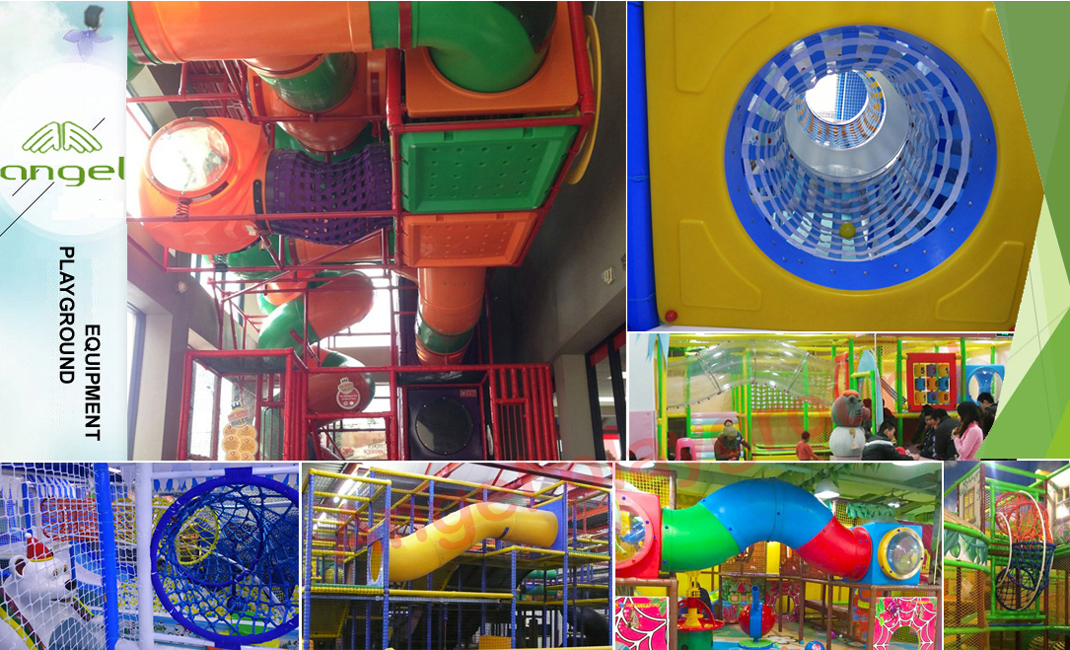 Platform option! To different us with others, we not just offer platform with solid material. We make the transparent platform, also make platform with ribbon only, Kids need better control on balance when walking on it, also this kinds of platform can be curve up and down, create more fun for kids.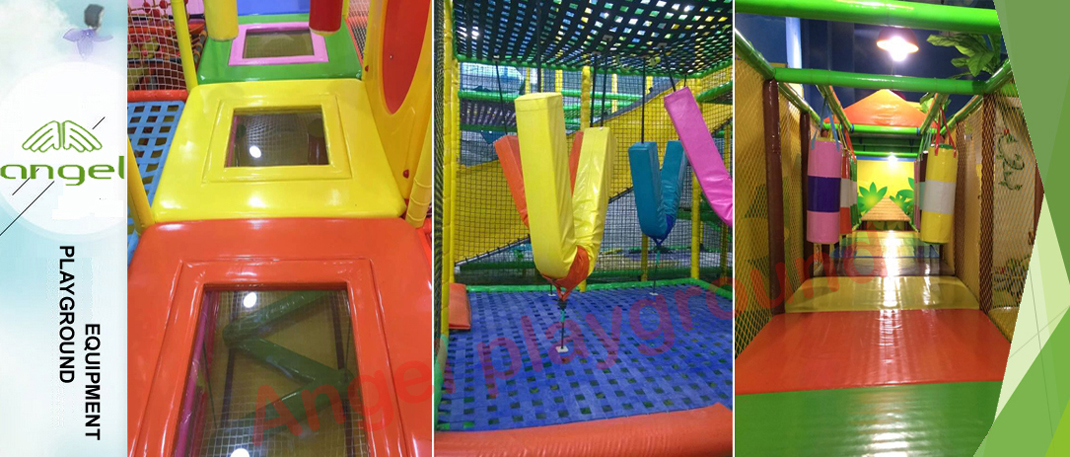 Soft play events inside playground, you can choose any of bridge, passage, obstacle, and soft block inside your play structures. Those play events you see our design or on components list can mixed together.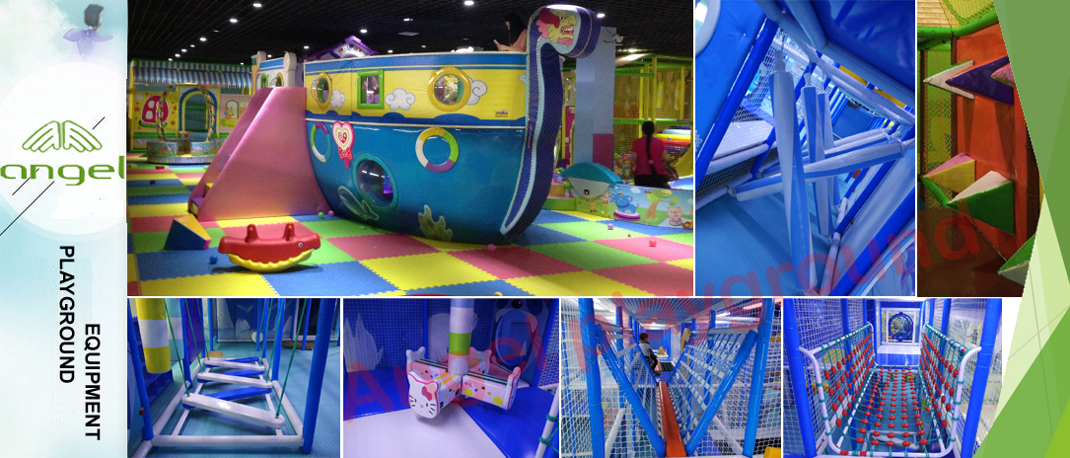 Million balls and net playground, Other New projects for Indoor play equipment please visit design on our website. To create your unique playground, learn more information will help you get better ideal, once you understand your play area, player's age group and function of each play event, you are an informed buyer can make the wise decision for purchase.